Bachelor of Computing Engineering in Software Engineering
Bachelor of Computer Engineering at the Universidad de Castilla-La Mancha. From 2013 to 2017. Total average mark: 8.98.
Final degree project
Variación Dinámica del Comportamiento de las Aplicaciones en Función de las Emociones de Usuario.
Master of Computing Engineering
Master en Ingeniería Informática (MUii) at the Universidad de Castilla-La Mancha. From 2017 to 2019. Total average mark: 9.31.
Final degree project
Mecanismos de Interacción Enriquecidos con Técnicas de Computación Afectiva.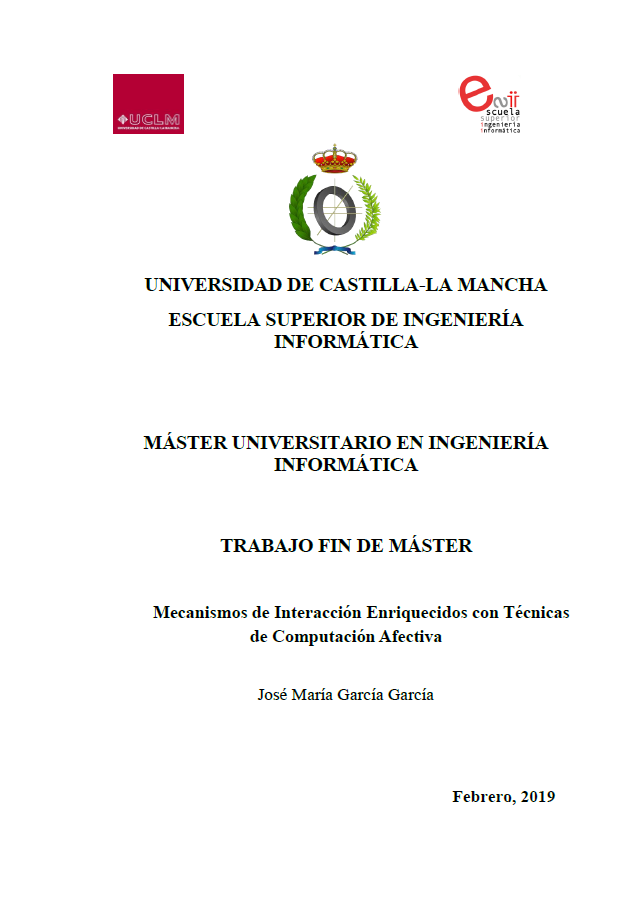 Multimodal Affective Computing to Enhance the User Experience of Educational Software Applications
In Mobile Information Systems (Q3). Volume 2018, Article ID 8751426, 10 pages.
Garcia-Garcia, José María, Penichet, Victor M. R., Lozano, Maria D., Garrido Navarro, Juan Enrique and Lai-Chong Law, Effie.
Hindawi
DOI
Tot System
Two-level multimodal system to detect emotions.

The Tot System, offered in the form of API, is a server-based system to aggregate data of several automatic emotion detectors.
Tau Prolog
A Prolog interpreter in JavaScript

Tau Prolog is a Prolog interpreter fully implemented in JavaScript. While most online interpreters are remote servers with an installed version of the interpreter which receive code, execute it and return the results, Tau Prolog is fully implemented on JavaScript and the code is analysed and parsed on the client side.

A quote from a book I've read as a present! :D
Y si os he contado todos estos detalles sobre el asteroide B-612, y os he revelado su numero, ha sido pensando en los mayores. A las personas mayores les encantan las cifras. Cuando se les habla de un nuevo amigo jamás preguntan lo esencial; jamás os dirán: "¿Cómo es el timbre de su voz? ¿Cuáles son sus juegos preferidos? ¿Colecciona mariposas?", sino que os preguntarán: "¿Qué edad tiene? ¿Cuántos hermanos tiene? ¿Cuánto pesa? ¿Cuánto gana su padre? Solo entonces creerán conocerlo.